Dachshund puppies for sale

As a registered breeder with GoodDog, I keep an up-to-date page listing my planned and expected litters. While these puppies will always be offered to my waitlist first, it is a good place for you to see what is coming!
I always put all puppies on hold until the age of 4 weeks old when they will be offered to the wait list! This page is used to offer puppies to my waitlist. Frequently, it is password protected so as to give my waitlist first choice of all available puppies.
Griz and Winnie's puppies are now available!

Pups will be ready to go to their new homes Friday, April 21, 2023. Pet pricing is $1500 with a $500 rebate offered for proof of spay or neuter.
All Dachshund puppies for sale will be vet checked, are microchipped, are age appropriate wormed and vaccinated, and come with a goodie basket which includes an embroidered blanket that smells of mom and littermates, a LupinePet leash and collar of your choosing, collapsible water bowl, waste bags, three toys, a photo magnet, Royal Canin puppy food and a coupon, Nuvet vitamin samples, and a small sample of dog treats from Montana Mutt.
Please remember that the majority of these puppies are English (or shaded) cream. That means that they are born dark and will continue to lighten as they age. Dapple will fade. For more information about how the shaded cream works, please refer to this Facebook post to see more.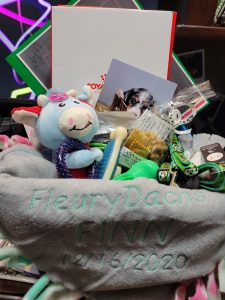 ************************************
************************************
NOT AVAILABLE



GW2-1

ee cream smooth coat female – red collar
************************************
NOT AVAILABLE

GW2-2
Chocolate and cream smooth coat male – (orange collar)
************************************
AVAILABLE



GW2-3

Chocolate and cream long haired male – (yellow collar)
************************************
NOT AVAILABLE

GW2-4

Chocolate and cream dapple long haired female – (green collar)
************************************
AVAILABLE

GW2-5

Chocolate and cream smooth coat male – (blue collar)
************************************
AVAILABLE

GW2-6

ee cream long haired male – (blue collar)
************************************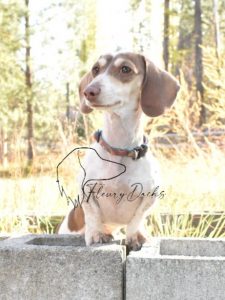 Mom – Winnie – 11 lbs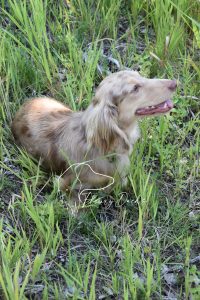 Dad – Grizzly Win Mag – 14 lbs