FleurydachS faq: Buying a dachshund puppy
Before buying a Dachshund puppy, what should I know about Dachshunds?
This is the best question you can ask before buying a Dachshund puppy! The first thing I would caution is that Dachshunds are prone to back problems. Due to the length of their backs, slipped disks are common resulting in IVDD. Jumping on and off furniture is not good for Dachshunds. Stairs can even lead to injuries. They are prone to obesity and this can make back issues more likely. Dachshunds are also very difficult to house train by nature. They can be stubborn and their legs are so short that grass and snow often makes them uncomfortable. Don't be surprised if your Dachshund likes to potty under a bed or somewhere that is comfortable to them! Dachshunds love to dig – they were bred to hunt animals in holes after all! Dachshunds are barkers so expect to have to train them that it is not acceptable to bark. Dachshunds are prey animals. They WILL chase things that run. They can live happily with cats and other animals but again, expect to have to be patient and train.
Are your puppies registered?
One of our adults is unregistered so we will occasionally have pet puppies available without registration, but after 2021, all of our dogs will be AKC registered only. All puppies will come preregistered with limited AKC or full depending on the purchase agreement.

Do you sell full AKC for breeding purposes?
I do sell full AKC provided that pups meet health and breeding standards and potential breeders are educated on Dachshund breeding. There may be additional testing required before the sale of some puppies to ensure the health and breed standard as well as a more extensive interview process.
What testing do you do for your dogs?
All of my dogs are DNA tested for all Dachshund diseases, colors, and characteristics including dilute. I do this to ensure that I am not breeding known and avoidable health issues. Additionally, I am working towards OFA eye certifications, patella certifications, and heart certifications. While some testing has been completed on some dogs, I have not gotten through the process with everyone.

How much are your puppies?
The price of puppies has skyrocketed and it is my goal to keep my puppies affordable to even those on fixed income without sacrificing the quality. DNA and OFA testing are not cheap to complete and maintain. When buying a Dachshund puppy from us, our puppies start at $1500 and go up from there depending on registration and quality. Additionally, we do offer a $500 rebate for spay and neuter. Deposits can be paid using check or money order but must be mailed with a tracking number within 24 hours of choosing your pup or you may send an online payment through Good Dog. Part of the purchase price includes registration at no additional charge when available. Full registration is also available upon request and with approval. If you choose to utilize this rebate policy when buying a Dachshund puppy, final cost for a registered pet would be $1000.

What forms of payment do you accept?
When paying a deposit on a puppy or to join the waiting list, I accept checks (personal or cashier checks) or money orders or an online payment through Good Dog. I do NOT accept Venmo or Paypal or any other form of online payment. If paying with a check or money order, I do encourage people to mail them using a tracking number as the postal system is not always reliable in my area. At the time of pick-up, I require cash payments or advance payment if you are not comfortable traveling with cash. Payment plans can be arranged as well. If you utilize my waitlist program (the only way to be sure you'll get a puppy) and make payments, the cost is broken down enough that it makes it not so difficult to afford.

How does your rebate work?
I offer a $500 rebate with all puppy sales. Terms of rebate are as follows:
Spay or neuter must be performed between the ages of 6 and 9 months.
Females must be verified by veterinarian not to have given birth prior to altering.
Veterinary documentation and proof of altering must be postmarked or received by the age of 9 months and 2 weeks.
Rebate will be mailed directly from my bank within 30 days of receipt of veterinary proof

Does that mean I can't breed my dog?
Breeding a dog is a personal decision and one that should not be taken lightly. Please be aware that part of the contract includes terms about not releasing puppies to pet stores, puppy mills, brokers, or the pound. I would encourage anyone interested in breeding to reach out and let me or another knowledgeable breeder guide you. There is so much that goes along with breeding that having a mentor can really save you time, money, and a lot of potential heartache.
Why do you have that age for spay and neuter?
This is a policy that is reviewed annually with my veterinarian as well as a second veterinarian. There has been a lot of outcry that it is better to wait till dogs are at least two years old, but at this time, my veterinarians still believe that 6 months is the best age as small dogs develop differently than their larger counterparts and are fully mature around 9 months. However, due to the recent beliefs, I have extended my contract to 9 months.
What is in your contract?
Our contract for buying a Dachshund puppy is a basic contract stating that puppies are sold "as is" unless your vet finds a genetic defect or is diseased within the two weeks after pick-up. Also, in the contract are terms to ensure the health and well-being of all puppies who leave our home as well as the details regarding your spay/neuter rebate. If you'd like to review one, please just ask and I'll happily send you one to look over.
How does your health guarantee work?
When purchasing a puppy, the health guarantee is a lifetime guarantee against birth defects is outlined with specifics in your contract. Specifics include the requirement of a 10 day vet exam by your veterinarian, vaccinations administered by a vet in a specified time frame, and covers against genetic birth defects. IVDD is not included in this guarantee and is outlined as such in the contract. There is no guarantee against accidents, negligence on the buyer's part, nor parasites as those may be contacted during travel to the puppy's new home.
How do I get on the waiting list?
After you submit an application for buying a Dachshund puppy, families are screened and if you are approved, a non-refundable deposit of $200 along with a signed contract will put your name on the waiting list. Deposits are applied to the total cost of a puppy once you choose one.
How does your waitlist work?
Once you join my waitlist with a contract and paid deposit, you are offered every available puppy regardless of your preferences in the order that you are joined. When litters are three weeks old, I send out a form where you can mark your interest in the litter. If you are interested in a litter, you are offered a puppy in the order you joined once puppies reach the age of 4 weeks old. If you are not interested, you stay on the list until you select a puppy and your position only changes when people ahead of you come off the list. If the puppy you were hoping for gets selected by somebody ahead of you, then you will remain on the list until you find a puppy. The $200 non-refundable deposit that we require to be placed on our waiting list is good for three years and a minimum of 6 puppies offered – whichever comes last.
How long is your waiting list?
There's no easy answer to that question. Depending on how specific your desires for buying a Dachshund puppy are (ie: certain color, certain gender, certain coat type), you may wait longer for your specific desire. It's going to completely depend on what you're looking for and how flexible you are with your choice. If there is not a puppy currently available that you wish to adopt, your name stays on the waiting list and we will send out notices the next time we have puppies available. Remember, the more specific you are in your request for a desired puppy (color, coat type, dam, eye color, etc) the longer the wait for a new puppy will be. FleuryDachs reserves the right to first pick of any puppy, on all litters.
What if I change my mind about the waiting list?
The deposit to join the waiting list is non-refundable. By placing your name on my list you are committing to a puppy from me. However, if you want to push back selection, you do have up to three years before your deposit expires.
Will you raise the price of puppies after I join the waiting list?

Unfortunately, I have found it necessary to raise and adjust prices several times since I started this endeavor, however, I do NOT believe it is right to raise prices on people who have already paid a deposit to join my waitlist. When you sign your waitlist contract and place a deposit, the price you signed under is guaranteed no matter how much my prices should go up.
How am I protected if something should happen to you or your business?
Rest assured, this is something that has been considered and steps have been implemented to make such a happening less stressful for my family as well as my potential buyers. All deposits and rebates are placed into a separate savings account to ensure that all transactions can be completed on my end. Rebates will be mailed out according to contract terms and if my business were to close, people waiting on the waitlist would either be offered an adult from my program or your deposit would be promptly refunded.

Do you ship?
At this time, I do not ship puppies, however, I can arrange to meet you at our local airport or you can pick your puppy up in person. I do have a wonderful flight nanny that I can recommend as well as a ground transportation service that has a wonderful reputation and high standards of puppy care.
Do you deliver?
I will deliver puppies for a fee of $.65 per mile (calculated on one way travel from my residence) when beyond the Flathead Valley. I will also meet you half way at the same cost of delivery. If delivery requires travel of 8 or more hours round trip, an additional charge of $100 will be added to the cost of delivery to cover additional fees incurred. Transporting a second puppy is an additional $100. I do also work with both a wonderful flight nanny as well as a fabulous ground transportation guy. I have met both personally and trust them explicitly. All arrangements for their services must be made through them. If you are unable to pick your puppy directly, I do require an additional signed waiver to release the puppy to someone else's care.
What can I expect with my puppy?

When buying a Dachshund puppy from us, you will receive with your puppy a basket including a RoyalCanin puppy food with a coupon, paid AKC registration, a litter scented comfort blanket, a LupinePet leash and collar with a lifetime guarantee against breakage and chewing, Montana Mutts dog treats, a few puppy potty pads, 3 puppy toys (one for chewing and one for snuggling), a puppy "birth certificate", and a health record complete with a vet certified health check. Additionally, we start house training and kennel training puppies at 5 weeks of age so your puppy will be familiar with potty pads and not be afraid of the feel of grass under their feet. Puppies also come micro-chipped and with dew claws removed.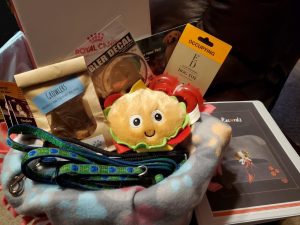 What food would you recommend?
We feed only Royal Canin dog food to all of our dogs. It is scientifically formulated to meet the needs of all breeds of dogs. I highly recommend this food as it helps with preventing health issues and thus reduces the need for extra veterinary bills.
Can I come see the puppies?
Young puppies are very susceptible to disease. We do not start in-home visits until 5 weeks old to allow our puppies time to build natural immunity before being handled. If we have multiple litters in house, we will not allow visitors to older litters until the youngest litter is past the age of 5 weeks. Because puppies are offered to our waiting list first at the age of 4 weeks, videos and photos are usually used to pick a puppy. If you want to wait and meet the puppies before making a choice, I do not recommend using the waiting list and your wait time may be longer as you will not be offered a puppy until after the waiting list has had a chance. I am happy to supply lots of pictures, videos, and a live video feed to all puppy parents buying a Dachshund puppy.
When will I get my puppy?
Usually at 8 weeks old, they'll be ready to go home!
We wish you all the best in your journey of finding buying a Dachshund puppy. We know it's an important decision and we're here to assist in any way we can. We'd love to hear from you so feel free to call or email us.