FleuryDachs Past Litters: Past Wiener Dog Puppies for Sale
FleuryDachs is a fairly young business and has only had a few wiener dog puppies for sale. Puppies previously came in varying shades of red, dapple, and black and tan. We have recently expanded our business and have doubled the number of females and are expecting approximately 10-12 litters of puppies for sale each year moving forward including litters of English Cream, dapples, chocolates, and cream piebalds. While the majority of our dogs are long hair, we recognize there is a demand for smooth, and have added a couple more smooth coats to our pack to help fill this demand.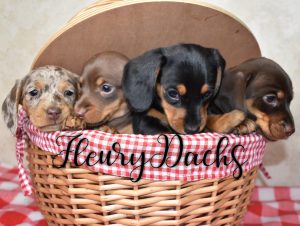 We have recently had puppies sired by our studs and occasionally, we may offer these puppies for the dam's owners. Pictures of these puppies are included in this gallery as well. If puppies are offered from our studs through us then we will handle all contracts and screening the same way that we do with puppies born in our home. If this is something you are interested in, please reach out to us. Our number one priority is to see our puppies in forever homes and we want to help ensure that all our babies are loved and treasured even when they're not born in our home!
If you are owned by a FleuryDach, we ask our puppy owners to share pictures of the Dachshunds you've purchased from us on our Facebook site. If you would like to see more pictures of these beautiful wiener dog puppies for sale as they've grown, be sure to stop by our Facebook page! Also, if you have one of our past puppies, be sure to follow us on Facebook so we can add you to the FleuryDachs Owners group to help you connect with your pup's litter mates and families.