Welcoming new wiener dogs at Fleurydachs
When I first ventured into the breeding business, my husband said I could have 8 dogs. Eight is a perfect number of wiener dogs because hot dogs come in packs of 8!!! Now I have found a way around having more than 8 dogs for breeding (I don't know what I'd do without my guardian homes!), but at this time, we have hit 8 in our home.
Our newest addition is another male. I had no desire to have another male in the home (it makes accidental breedings more likely) but when I saw this guy, I had to have him! More amusingly, my husband insisted we needed him! I have a lot of people who have been looking for English Cream Piebalds and with this new addition, I will be able to increase the chances of that hopefully!
Meet Axl Rose!
Wait! What? Axl Rose? That's most definitely not a gun name and doesn't fit our theme! Well, not surprisingly, it's hard to keep coming up with gun names. So we have branched out to FleuryDach's Guns and Roses! Axl is a black and cream piebald who came to us from a breeder in Oregon. We are planning on breeding him with Bayonet in the hopes of English Cream piebalds, Maggie for dapple piebalds (in smooth coat), and Rose.
Hold on a minute. Rose? Well obviously you can't have RoseS if you don't have two wiener dogs with Rose names!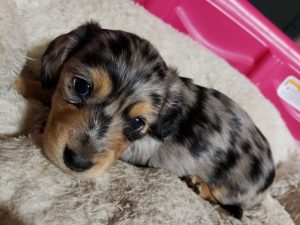 Meet Miracle Rose! We have decided to keep the little girl from Powder's last litter. After the emotional roller coaster ride of her birth, we couldn't bear to part with her and she will be a beautiful addition to our kennels. Once she is old enough to come into heat, we will be retiring Bullet to prevent accidental double dapple breedings. We are hoping that her and Ammo will make litters just like her and her and Axl may make dapple piebalds.
But somehow this math just isn't adding up… I'm not getting a count of 8 wiener dogs here! That's because Remi has gone to stay in a guardian home. She is a funny little old lady (in a 6 month old puppy body) and wasn't particularly happy with the other dogs. Every time my oldest daughter came over (which is frequently as her dogs stay here during the day while they're at work), Remi would try to go home with her. (Possibly because my daughter has 2 reds and Remi thinks red dogs are supposed to go with my daughter…) After days of Remi dejectedly pouting after being left behind, we decided we would give it a try to let Remi go with her. Needless to say, Remi couldn't be happier and neither could we. We still get to see her regularly and when she comes back with my daughter's dogs, she is happier than every to be here. And as much as we miss her sweet snuggly self, the happiness and well being of our dogs comes first and foremost.
So to recap, the FleuryDachs household contains Bullet, Powder, Caliber, Bayonet, Ammunition, Maggie, Axl, and Rose – a full pack of 8 wieners. Howitzer, Oreo, and Remi are a part of our breeding program and live in carefully selected guardian homes. We may, at some point, look for a guardian home for Axl. If a guardian home is something you'd be interested in, fill out the application to adopt and we'll get in touch!