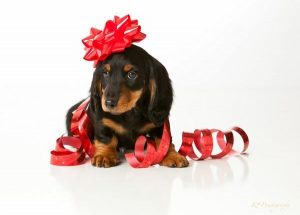 Our goal at FleuryDachs is to create the perfect healthy, happy Dachshund. In order to do that, we breed only the best quality animals, so occasionally we keep an outstanding pup from one of our litters to use as part of our breeding program. While we prefer to place males in our Dachshund Guardian Home Program due to the minimalized chances of accidental breedings and decreased chances of acts of aggression and dominance, we do occasionally place females in guardian homes as well. Occasionally, we may see a dog who is not fitting in well with family life in our home due to the number of dogs and their pecking order, and if it is in that dog's best interest, we will look for a guardian home where the dog will get to be somebody's special baby and her personality will flourish.
What is a Dachshund guardian home?
A guardian home is a family that takes one of our chosen breeder dogs (or puppies), at no upfront cost to your family. The guardian home MUST live within 100 miles and have a fenced yard. The guardian home raises, loves, and cares for their dog just like normal, while FleuryDachs retains ownership and breeding rights. After the dog's breeding career is over (5 litters for females and 6 years for males) it is spayed/neutered, and ownership is transferred to the guardian family to keep as a forever pet.
What are the costs of being a Guardian Home?
During the dog's breeding career, FleuryDachs pays for anything related to breeding including all reproductive and health testing (related to reproduction) for your dog or puppy. The guardian home pays for the day to day expenses of having a dog such as training, grooming, toys, food, vaccinations, vet visits, etc.
How does the breeding process work for a Dachshund Guardian Home?
At the time a male is needed for breeding, a minimum of a week's notice will be provided to a male guardian home. The breeder will pick up the male for breeding purposes and return it to it's guardian home after services have been provided. Some situations will be better served by bringing the female to be bred to the guardian home for a "date". There is no need for a male to be removed from a guardian home overnight, however, a second and sometimes third visit will need to take place after a full 24 hours have passed between visits.
Guardian homes for females work slightly different then with males. When a female is in heat and ready to be bred, she will meet with the stud either in the guardian's home or at FleuryDachs. Females will not be bred in their first heat and will not be bred for more than 5 litters. When a female has been confirmed pregnant, she will meet FleuryDachs at a vet visit (which will be scheduled according to both parties availability and with ample notice) for an xray to determine puppy count. When the female is approximately one week away from welping, she will come to stay at FleuryDach's until the puppies have been weaned. At the end of this time, she will be returned to her guardian home. Guardians are encouraged to visit their dog but will not be allowed to handle puppies until they are five weeks old or older.
What are the benefits of providing a Dachshund Guardian Home for FleuryDachs?
You will receive a breeding quality pet at no out of pocket cost to you. At the end of the contract, the dog will be spayed or neutered at the cost of the Breeder and the guardian home will also be offered a future puppy at half price from FleuryDachs.
If you are interested in our Dachshund Guardian Home Program, please fill out an application and be sure to note that you are interested in this unique opportunity. While we may not have something available currently, we will hold your application for future opportunities.