Bayonet's Final Litter
There are a lot of wonderful things about a delivery with a mama who has delivered before: you know their funny little traits, you've previously seen the way they transition and labor, and you've developed a bond from having been a team before. As Bayonet prepared for her final delivery before becoming a retired Dachshund, I was far less nervous than I usually am. After having delivered 4 previous litters with Bay, I had a pretty good idea of what to expect. Or so I thought.
On the morning of February 24, I knew Bayonet was in labor. Besides her occasional nesting under the blankets at my feet, she woke me up at about 4 AM wanting outside to potty and spent some time sleeping up by my head whimpering. Bay has a history of taking a very long time to progress to actual labor and then suddenly ramping up all at once- usually when I'm not around! On two separate occasions, she has waited until I wasn't around to enter the final stage of labor! I spent the day watching and observing her and at dinner, knew we were getting close. Sure enough, about an hour later, we were ready to start pushing.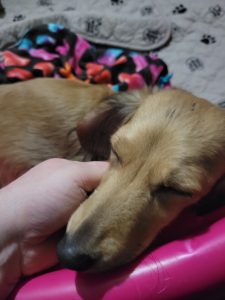 When Bayonet pushes, she makes this AWFUL noise that we call a "hurk" because that's exactly what it sounds like. She makes a couple loud frightening HUUURRRRKKK noises and within two or three of accompanying pushes, we have a puppy. This time we had green discharge. That is not always a bad thing, but it starts a clock. If there is still no puppy in 4 hours, the vet will have to intervene. If there isn't one in two hours, we make a phone call to get them on standby. And because I had been through this previously with Bay, I knew something was off. When there was still no puppy at the one hour point, in spite of repeated hurk noises, I started to worry. With as many rough deliveries as I have had in the last year, I worry that I am being paranoid and jumping the gun so I tried to wait out the two hour clock. I began to pray even harder for a safe delivery for both Bay and her puppies and that God would be glorified through it. But at an hour and a half, we were loading her in the laundry basket for transport. Her contractions had lightened up and were getting further apart and I knew we were not progressing at all.
After taking her in for ultrasound, the emergency vet called and gave me the devastating news that the ultrasound showed 1 puppy with a heart rate of about half and that the remaining puppies were deceased. I was gutted. A retired Dachshund that you have gone through the years with is hard to say goodbye to, but to end on such a crushing note was even worse. I authorized him to do what he needed to do but to please be sure that the pups were available for me to footprint and gather data for my records.
A short 30 minutes after making that authorization, the vet called back to inform me that Bay had handled surgery well and was officially a retired Dachshund but miraculously, they had managed to resuscitate and save ALL of the puppies! I can't even begin to describe the disbelief! He did caution me that there had been many issues. One of the puppies had grown in an odd position and was severely disfigured from being bent sideways blocking the exit and that while she was alive, he wasn't sure that she'd live long. He also said that somehow one of Bay's horns (their uterus is U shaped and each side is called a horn) had gotten back behind Bay's kidneys and a puppy (the biggest) had grown back there. He said when they went to remove the puppy, it tore her uterus in half thus necessitating the need to spay her at the time of surgery. While the situation was less than ideal, it was a relief to me that Bay would be a retired Dachshund without the need for a second surgery. I retrieved Mom and all three babies and took them home. But our adventure was not over.
On the forty minute drive home, I noted that Bayonet was not acting like any other mama I have ever had after their c-section. I called the vet and they assured me she had pain meds on board and suggested that perhaps it was just due to the complicated spay that went along with the c-section. But as I have written about previously, I have had mamas with complicated spays that didn't act nearly as concerning as Bayonet was acting. Nonetheless, I continued home with her and settled her in while I weighed and printed puppies. I noted that our twisted pup was much more severely disfigured than I could ever have imagined, weighed only 4 ounces, and that her breathing was rapid, shallow, and that she was squeaking in pain with every breath. A half an hour after being home, Bay's unresponsiveness had gotten more noticeable and she was shaking badly. Combined with those symptoms, she was passing a dark green sludge. I had given her a double dose of Doc Roy's B Strong (a B vitamin, mineral, and iron supplement) and I still saw nothing encouraging. I called the vet back, loaded Bay and puppies up, and headed back in.
To make a long story slightly shorter, Bayonet spent the night at the vet with her puppies. In the morning, they informed me that she'd had a bad reaction to the meds that she'd gotten but that she would be just fine. All three puppies were still alive and the two biggest had started latching and nursing. Little Twist hadn't nursed all night but was still fighting. At that point, I made the call for her to be euthanized as we discussed her quality of life should she somehow survive. Letting go is never easy, but there is no doubt in my mind that Twist is in a far better place.
Our newest retired Dachshund and her sweet babies are doing well and thriving. The entire litter was again female wrapping up Bay's career stats with 5 boys and 11 girls. She has been an amazing little mama and we are happy for her as she prepares for her new life being a spoiled princess with our bonus daughter and her husband.
Most of my retired Dachshunds are requested in advance and Bayonet is no exception. It is rare for me to have a mama that someone hasn't requested and if I do, it's because of a tragic early retirement that we were not prepared for. If a retired mama is something you are interested in, please be sure to reach out.