Bayonet & Ammo: A litter of English Cream puppies
We are proud to announce that Bay gave birth to a healthy litter of English Cream puppies today! We knew it was coming last night when her temperature dropped to 97.1 F at 7:30 last night. After a restless night, I noted that Bayonet seemed to have regressed in symptoms and so after a call to the vet, took her in to check on everyone's health. I drove her in and they did an ultrasound and confirmed that everybody was doing ok but that "it just wasn't time yet". After arriving home, the heavy panting began. At 3:00 PM, contractions started – probably because the remastered Playstation 4 version of Spyro had arrived!!! At 4:50, Bay delivered her first puppy safely- a girl weighing 5.9 oz! We dubbed her Sparx after the Spyro game, gave her a yellow band for identification, and noted that she had a broken tail at the tip from being cramped in the uterus.
At 5:20 PM, another little girl made her entrance into our birthing closet weighing a whopping 7 oz!!! As she delivered, Cali shredded the sac and the placenta disappeared back inside of her. Ember (again dubbed for Spryo) was given a purple collar. After delivering this pup, Bay took a long break and focused on her two babies. Both successfully latched on and got bathed thoroughly by Mama.
At 6:24 PM, Bay gave birth to another girl weighing 5.7 oz. Dubbed Cinder, she was given a red collar.
Finally, at 6:55 PM, Bay began to push out the last puppy. As the puppy started to exit the birth canal, the sac broke exposing tail and toes as they disappeared back inside of Bay. Bay appeared to be exhausted and I gave her a massage and some prayer and told her she had to push some more and get this baby out! She gave a couple more pushes and the puppy's bottom was delivered far enough that I was able to hold onto it to prevent it from going back inside again. Another big push and at 6:59, she managed to safely deliver a very feisty boy weighing 6.4 oz! Placed in a blue collar, we dubbed him Spyro. I palpated Bay's stomach and felt another lump and after the massage, Bay delivered the retained placenta safely. A second palpation revealed that she was done and could rest.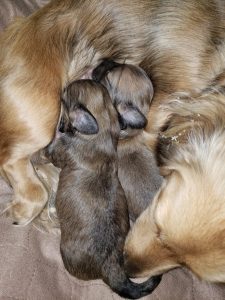 Mama and her English Cream puppies are all doing well. Bay seems to have some slightly inverted nipples so we will be extra watchful to make sure all feeding well. Dew claws are scheduled for removal on Saturday.
At this time, please note that there are NO available puppies. I currently have a full waiting list of people who have already placed advanced deposits for puppies. When the puppies are 4 weeks old, they will be offered to the waiting list in the order that their deposits were received. If there are any puppies remaining, they will then be offered to the general public. If you are interested in a future puppy, please join the waiting list so as to ensure you get a chance to choose! Caliber is expected to come into heat this month and will be getting bred to Oreo giving a litter of piebalds and possibly a chance at English Cream Piebald puppies. Cali's litter already has at least one person on the waiting list and will have any who pass on this litter be moved to that waiting list in the order they joined. The next expected litter after Cali isn't expected to be until after next spring as my young girls need time to grow up first.