We are pleased to announce that after a very trying day, Powder has delivered her litter of Dachshund puppies! This litter was full of surprises and even a miracle!
Powder began labor at 5 AM and progressed slowly throughout the day. About 3:30 active labor started and contractions began finally around 5 PM. An hour and a half into contractions, we had a partial delivery – with just a bag tip. Twenty minutes later it appeared that the bag had appeared to have ruptured without the delivery of a puppy and we transported to the emergency vet clinic. By arrival, we were seeing green discharge and were prepared for the worst. The vet did an ultrasound and could see no signs of life in the puppy so they began prepping a c section to save Mom and the remaining baby who appeared to be doing well. Immediately after the ultrasound, Powder began contracting and pushing (something she hadn't done for an hour at this point) and they whisked her back for her surgery. While they wiped down the exam room, I asked that we be able to see the stillborn puppy after delivery was complete.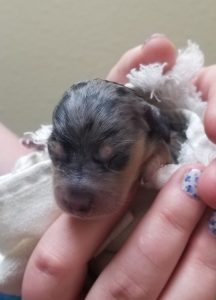 Five minutes later, the vet walked into the waiting room carrying a puppy – eyes wide with amazement and pronouncing that we weren't going to believe what had revived as she was delivered! In his hands he held a healthy puppy – but equally shocking was her coloring because she's not an English Cream – she's a dapple! They then returned Powder to us into a private room where about 30 minutes later, Powder delivered a healthy dapple son as well. We were only expecting 2 Dachshund puppies as had previously been determined using an x-ray. All crisis had been adverted and everyone was delivered safe and sound without any further stress to Powder.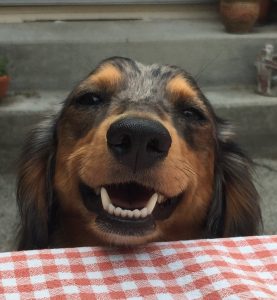 Clearly these babies aren't Ammo's but instead are Howitzer's! But how did this happen?
Ammo was believed to be the father due to the fact that we saw him tied with Powder multiple times. However, Ammo was only 6 months old at the time so we thought he would be shooting blanks. (No pun intended!) When Powder proved to be pregnant, we naturally assumed they were Ammo's and that he'd been firing live ammunition after all (pun totally intended that time!).
The planned breeding had been with Howie but Howie has a very gentle docile spirit and every time he'd attempt a mating, he would act like he was afraid of hurting her/getting into trouble. We left him at home in the back yard with Ammo and Powder hoping that he'd figure it out while we were at a funeral. Upon arriving home, we found Ammo still very much enamored and Howie still very much afraid and not putting any effort into his affections. So we just assumed that he'd been unable to figure it out. But we sure assumed wrong! Because not only are they his- but Ammo appears to have indeed been firing blanks after all!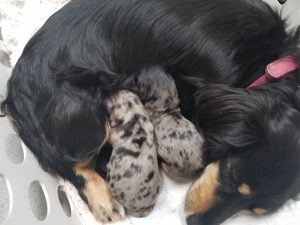 This will be Powder's last litter. Due to the fact that she has now delivered only 2 babies on 2 separate occasions, we will not be putting her at further risk due to the obvious fact that she is not capable of carrying larger litters. There is a great danger in litters of 2 as babies can get too big and then get stuck (as was the case and the near disaster with the little girl from this litter). Dachshund puppies will be offered to the waiting list first at the age of 4 weeks and will then be offered for sale to the general public following the waiting list choices.
If you are interested in purchasing one of our Dachshund puppies from us please read our FAQ, fill out the application for purchase, and then consider joining our waiting list! We have had a waiting list for every litter of puppies and the waiting list ALWAYS gets first pick in the order they joined the list!