Today would have been Bullet's 4th birthday. I started writing this journal two weeks ago as a way to work through my grief. Please forgive editing errors I may have missed. Every year I made a carrot cake for Bullet for his birthday (only for his though- not all of the dogs get their birthday made into a big deal) and we have decided that we will continue to do so every year moving forward. We will celebrate Bullet and all of our dogs on Bullet's birthday. After all, if it hadn't been for this perfect Dachshund, I would never have learned how amazing this breed is.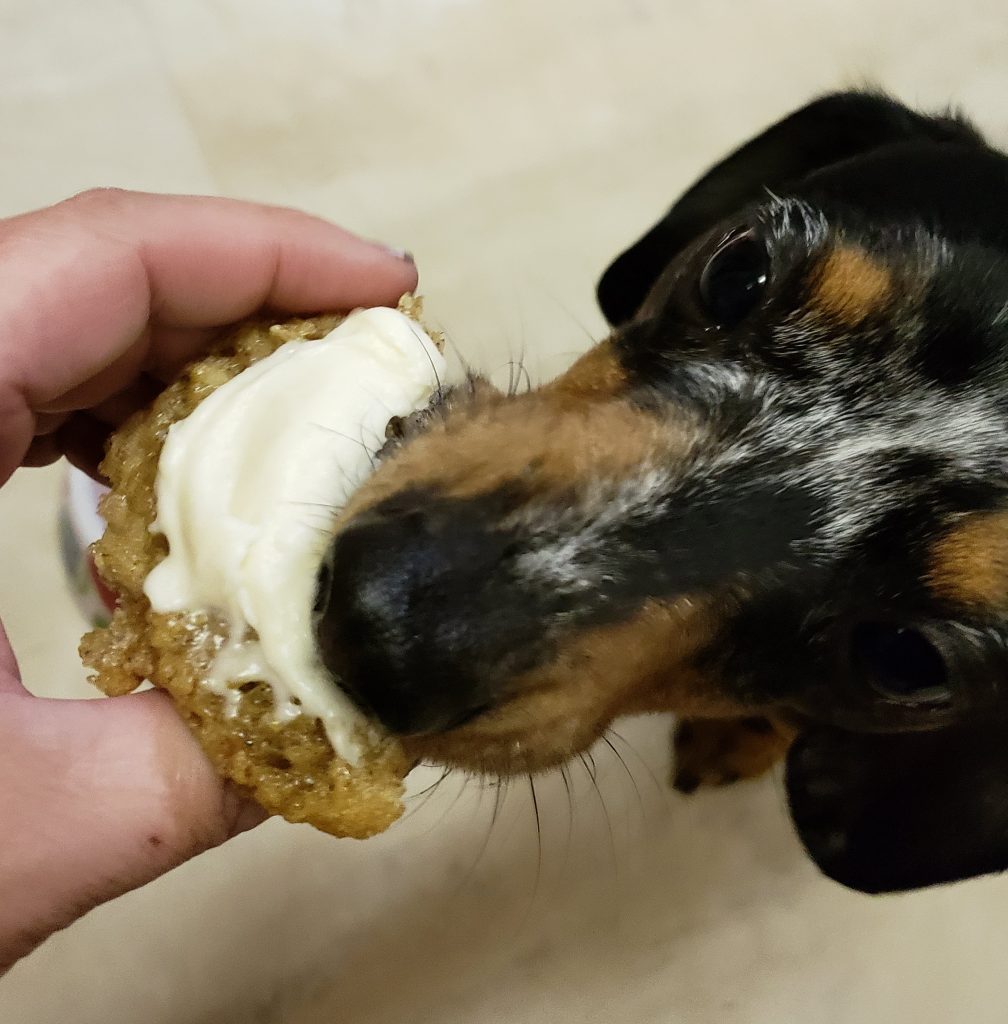 Going to bed without Bullet that first night was the hardest thing I ever did. I hated when I would travel without him and had to go to bed without him but it was even harder in our bed where we belonged. Ammo and Ricki went to bed with us as always and Cali joined us because some nights she decides she's not sleeping with my daughter. Nobody took "Bullet's spot" in my arms and I cried myself to sleep but woke up during the night with Cali in my arms, Ricki at my knees right below her, and Ammo pressed against my other side. They came to me and surrounded me and it was an amazing comfort.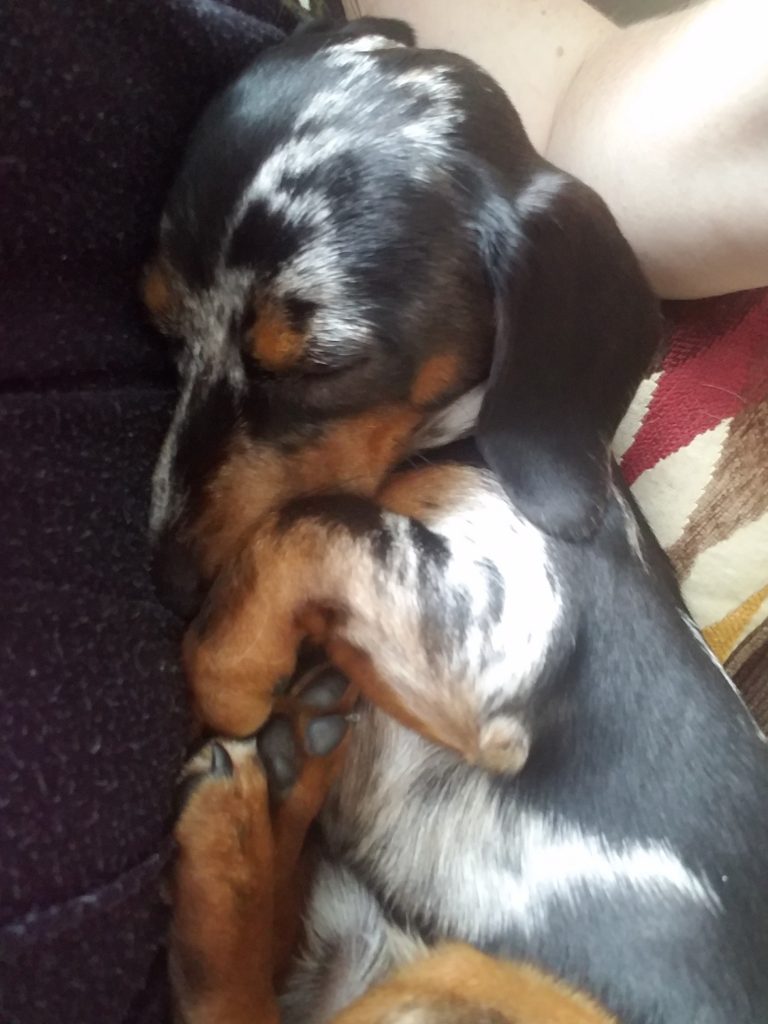 I keep remembering all the silly things that made Bullet the most special perfect Dachshund. He was totally obsessed with our fish tank and would randomly "rediscover" it. He'd cry and carry on and watch them for hours. He loved to get up on my desk and plant himself right in the middle of my lesson plans and laptop, put his face in mine, and demand all of my attention. On his less needy days, he would just insist that I sit with my foot on my leg to make a nest for him to sleep in. And of course I always humored him.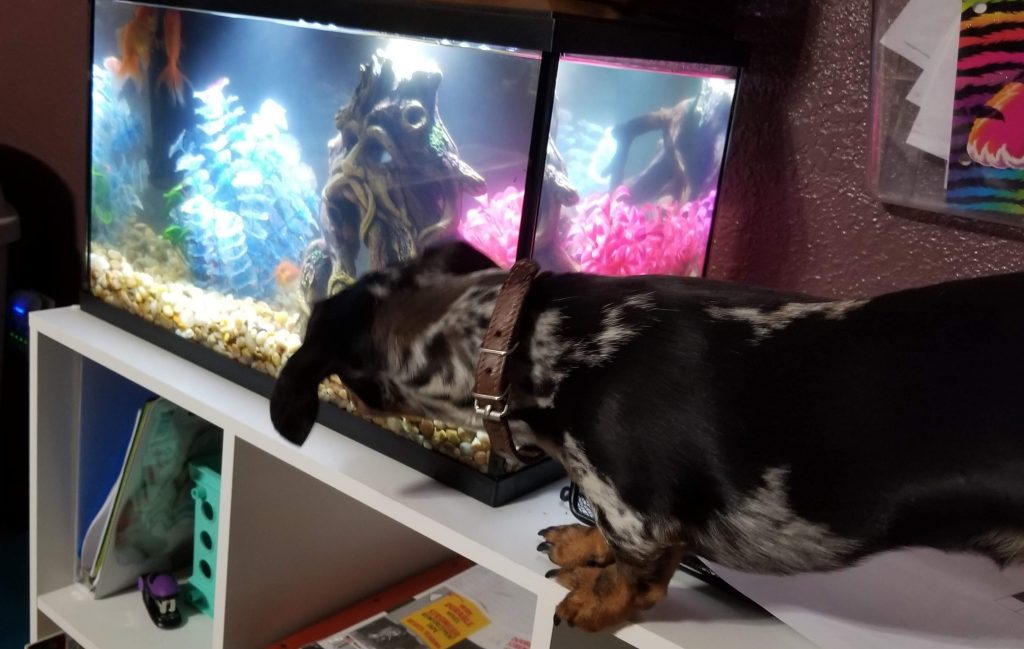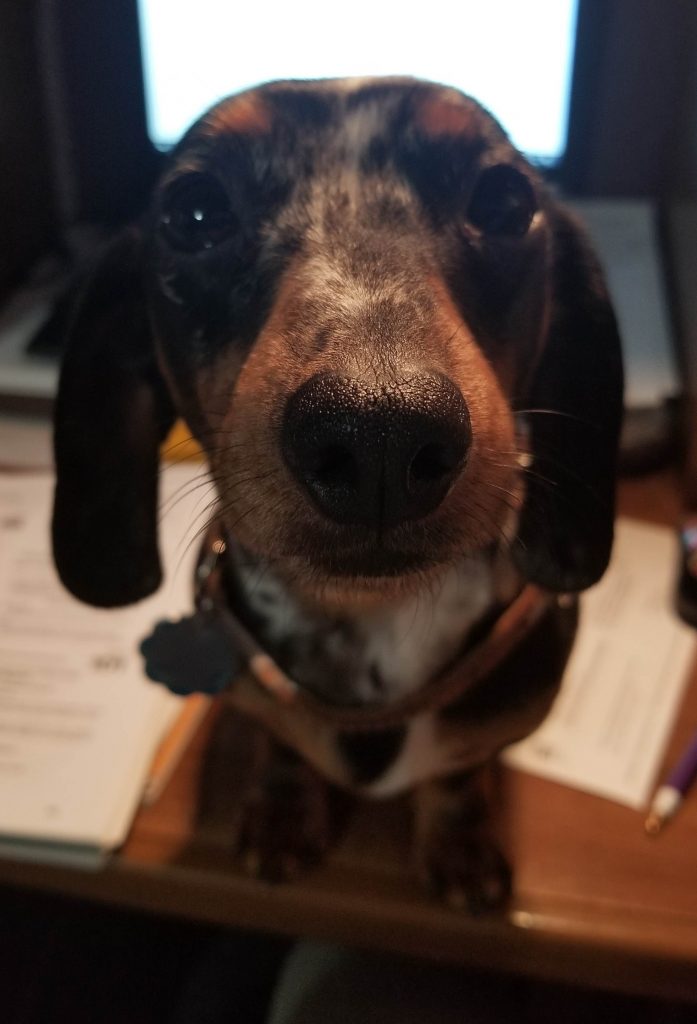 I home school our daughter and Bullet loved to snuffle and whine while he sat pretty asking to be picked up and snuggled while we would read her history or science- usually because I had removed him from my lap so that I could stand and read over her shoulder with her. If I didn't respond, he'd jump up to the back of the couch where he could be harder to resist.
I joked that my husband trained Bullet not to like men for my husband's peace of mind. Bullet was not a fan of men. He would growl and act tough even when in my arms. He loved my husband and my boys though. It was his sworn duty to make sure no strange men were ever comfortable in our house. And once he loved somebody, he would "gopher" (as my father-in-law likes to call his sitting pretty) at them until they'd pick him up and pet him. Although he was not a perfect Dachshund, he was perfect for me and he made himself pretty hard to resist.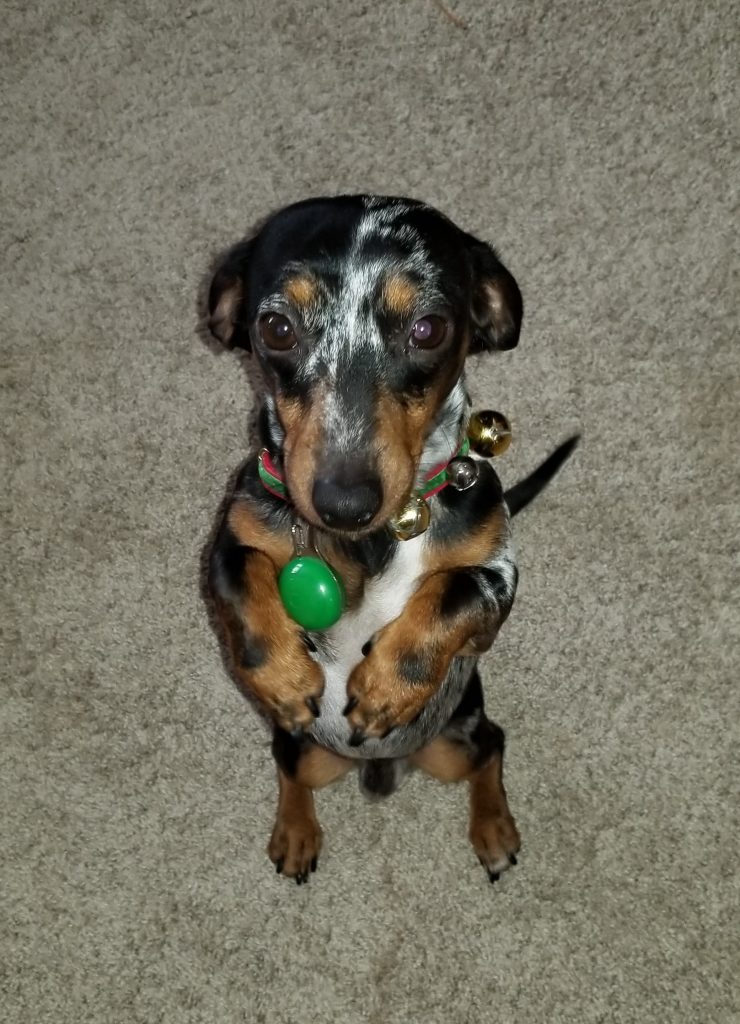 Bullet was above all the rules. He knew that he was special and therefore when I would tell all the dogs to go outside, he didn't think that applied to him. He'd go, but only after I would specifically call him by name. The same would apply for going to his kennel. His spot was in my lap and all the other dogs knew it- just like my armpit in bed. He got to go places when the others didn't. It was important for him to know that no matter how many dogs joined us, he didn't have to worry.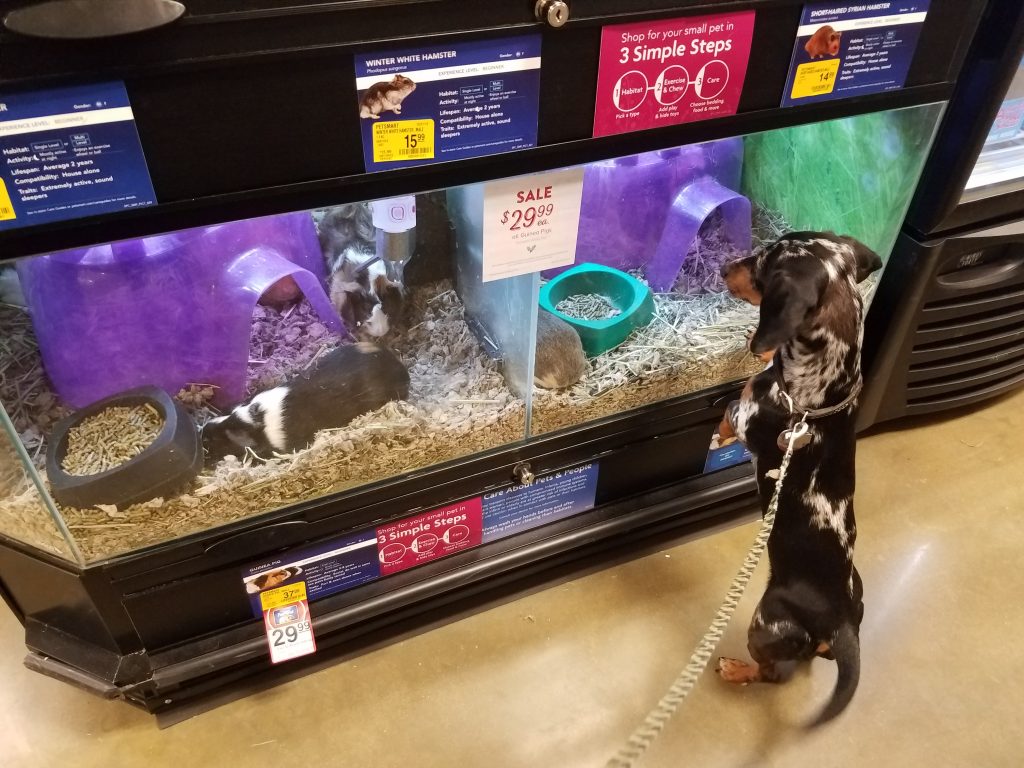 Every month when our Barkbox subscription came, Bullet would get so excited and claim all of the toys. Squeakers were his frenemies and he saw it his duty to remove them. The squirrel toys that would come were his particular favorite and seemed to withstand his tortures the best. He could de-fuzz a tennis ball in the space of minutes.
Bullet loved to go for car rides. Every time he got to go with us, he would run to the tree in the driveway and "greet it" with a watering and then leap into the car. I would joke that he was worried the tree would fall without his care. And when we were in the car, he thought it a great game to roll all the car windows down. He was a wonderful traveling companion and every time we would come home, he'd wake from his spot in his basket as I turned off the highway completely aware by the angle of the car where we were. The same could be said for going to our property in Lake Mary Ronan. His perfect Dachshund senses always knew when we were coming home. He'd already learned to recognize the sounds and angles of the turns and would wake from a sleep excited to be getting to our home away from home.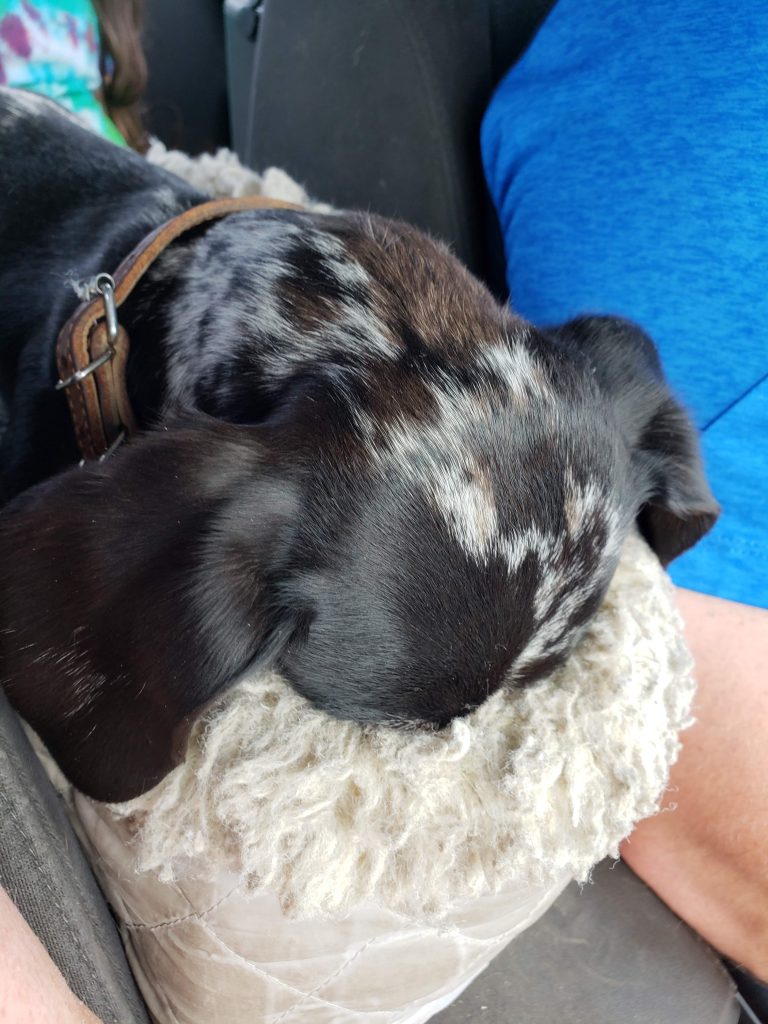 Coming home to my perfect Dachshund not being here still hasn't gotten easier. Every time I'd open the front door and I wouldn't hear his excitement at me being home to let him out of his kennel, another piece of my heart would break. My lap and my arms have been so empty. My husband used to say to me periodically when he was frustrated with packing up 8 (or more) dogs to go somewhere, "Why couldn't you have just been happy with only Bullet?" And sometimes, when I was overwhelmed or when I was snuggling him close in bed after the others had gotten up, I would wonder the same thing. I realize now that it was because I needed the others to help distract me when I lost him. If I didn't have 7 other dogs in my home right now, I'd be an even bigger mess. It takes the whole team of them to even begin to comfort me.
Of course I keep rehashing everything in my mind trying to figure out the coulda/woulda/shoulda's. Every night he went to bed and the woke up drastically worse the next day. His neurological function was hugely impacted going from being able to stand on his back legs but not walk with them on the first day to not being able to lift his head a mere 5 days later. I should've insisted on blood work on Friday. Why did I even take him in? I could've lived with the leaking. If I would've never taken him in on Tuesday, maybe none of this would've happened. Several veterinarians and numerous people who have dealt with IVDD have made statements that his case was highly unusual. Many believe that there was something else at play as the severity of his initial injury wasn't that bad. The vet that treated his IVDD thinks that he had a rare case of Canine Degenerative Myelopathy. Nobody saw a reason to think that this was going to go the way it did. But those reassurances don't put him back in my arms. And in the meantime, I find myself questioning everything I did and everything I could have done.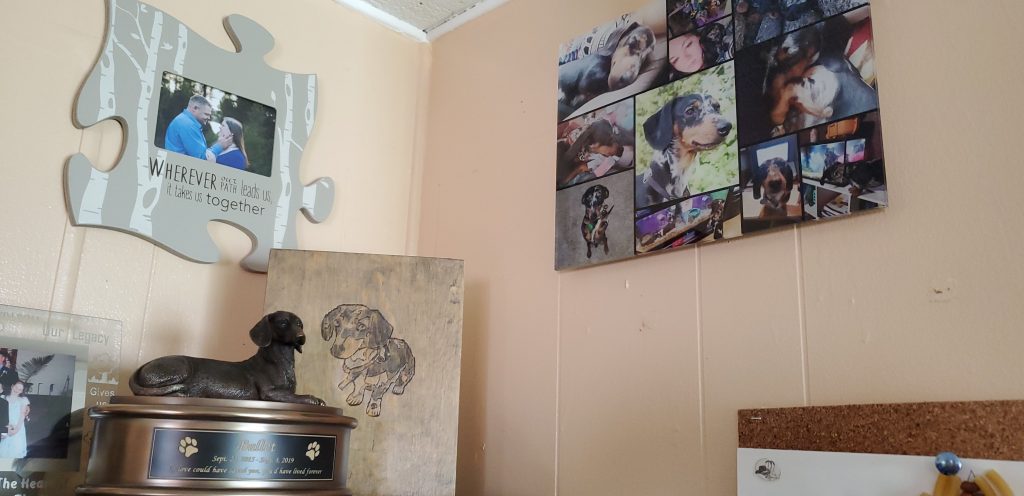 It's so easy to feel like I share this grief alone because he wasn't just a perfect Dachshund, but he was also my baby. I know my youngest daughter misses him terribly but I see in her eyes her hurt for me more than her hurt for our having lost him. But I know that everybody who was a part of our pack feels his loss tremendously. My oldest daughter special ordered a customized Dachshund earn for his cremains as a gift for me. My husband mentioned one night that he spent all day thinking of him and picturing him "gophering" and he can't believe he's really gone. One of my oldest friends has been so supportive and helpful in my seeking to find answers as well as in her role in helping him rest in peace. Countless friends have sent messages and called to see how I am doing and to share in my heartache.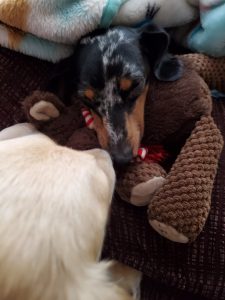 So while this entry is full of heartache and pain, I am going to focus on my perfect Dachshund's perfections. I don't know what doggy heaven looks like, but I choose to believe that it looks something like this: He will never be in pain again or get pancreatitis again. He will never run out of squeakers to distract from poor unsuspecting toys. He will never be told he can't have people food because it's bad for him. He will never have a tennis ball taken away from him. He will never feel the heartache of loss but will play happily until the day when I get to join him. He knew he was loved.
While I still vividly ache from the loss of Bullet, life has begun to move on. It took a week and a half of coaxing and rejections before Ammo moved into Bullet's spot at night. I almost cried as hard having him there as I did from not having Bullet. It wasn't about the fact that he wasn't Bullet as much as it was the happiness I felt at having him come to me knowing that it's his duty to be there for me now. Since then, Ammo comes to snuggle me closely at least for a part of the night. But living up to being a perfect Dachshund is a mighty tall order. Together, we are making it through our grief. And Bullet, even though I can't feel you the way I used to, I know you'll always be here with me.