New Year, New Life, New Goals at FleuryDachs
Every season I hope to be better about my blog posts for FleuryDachs and life gets so crazy, before I know it I've moved into another new season without accomplishing any of my goals. I think there are a lot of people who can feel that on a really personal level. But the new year always inspires us for new goals and here I am again, hoping to do better!
We have had such great success in the last year but were slowed down after having to pull a couple girls from our program after complications relating to their first litter. Thankfully, I had already been bringing new blood into our program so it was only a slow-down and not a complete derail. As a direct result, we have decided that we will be keeping/buying a minimum of three new girls every year so that they are grown and ready to step in should we face similar circumstances. And as we retire girls into their forever families, we will have young mamas ready to go. This should help keep our waiting list from stalling quite so long if we have similar complications in the future.
Last year we added OFA certifications and DNA testing to our program for all age appropriate dogs. We got a designated puppy room instead of just a corner of a room and we added puppy cams for our buyers to watch the chaos of our house and their puppies (and to make it easy for me to check on puppies). I purchased customized whelping and weaning pens from Jonart that have made confinement of puppies so much more enjoyable.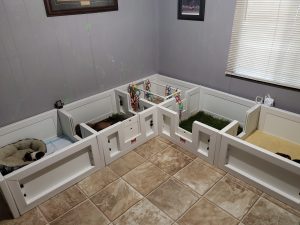 I have become more focused in what I want to do with my program and am being far more selective in the puppies I buy/keep. It's SO hard to pass up an especially beautiful puppy, but if it will not be a puppy I am able to utilize for my goals, then I am learning to say no! English Cream will always be my passion and it is my goal to ensure that I have English Cream puppies at least two to three times a year. I am working hard at having cream pies but I plan on always having at least one mama who will have solid creams. There is a new fad for ee cream (or platinum blonds as some call them), however I do not plan on breeding for ee. When puppies are born ee, that loci is known to hide their true color and pattern. This makes pairing for breeding much more difficult and requires DNA testing (something I would do anyway). That all said, I will have occasional ee pups because my chocolates are all Ee. When paired with each other, they will produce some ee pups. So for those who love the look of an ee, I will occasionally have some available. Besides the English Cream, I will focus on chocolate and cream, black and cream, brindles, dapples, and piebalds. If you are looking for a red, unless you get one this year from Remi, it is highly unlikely I will ever have a red for you. Perhaps at some point in the future I will acquire a red brindle, but until that day, the reds are going to be few and far between.
It is my goal this new year to learn how to utilize artificial insemination. I don't know if I will ever use it myself, but I feel that it is a valuable tool to have in my wheelhouse- especially to help with my guardian home program. This could help me bring new championship bloodlines into my program as well.
And as always, it is my goal to do more blog posts! I have quite a few ideas jotted down and just haven't had the dedication to sit down and write them out. Additionally, I am going to set aside more time to work on my AKC educational program!
Slightly related, we are working hard to build a new house this year where our current home is standing. Plans for this house will give us a grooming area indoors, a back-up generator for power outages in case of newborns or deliveries, and no more carpet in our house! With the removal of carpet, it will allow puppies more playtime in the main living area of our house without the hassle of difficult clean-up!

We have seen a lot of new faces and said goodbye to a lot of beloved faces as well. As hard as the goodbyes can be, it is so amazing and such a privilege to be able to build families and see them flourish together. We are proud to say that some of our dogs have gone to help widows grieve as well as help young girls become seizure free because of their bond to our dogs. Thank you to all of you who are a part of the FleuryDachs family – be it through ownership or support. We wouldn't be what we are without you and are excited to see our family grown this new year.